English |  한국어 |  中文(simplified) |  中文
LAYLA Guide
Start with LAYLA
What is LAYLA?

LAYLA is a marketplace-style e-commerce website specializing in semiconductor manufacturing parts. People from all around the world (i.e. United States, China, South-Korea, Taiwan, Japan, India, Brasil, etc.) can become buyers and/or sellers and trade directly through this website.
LAYLA's Five Key Features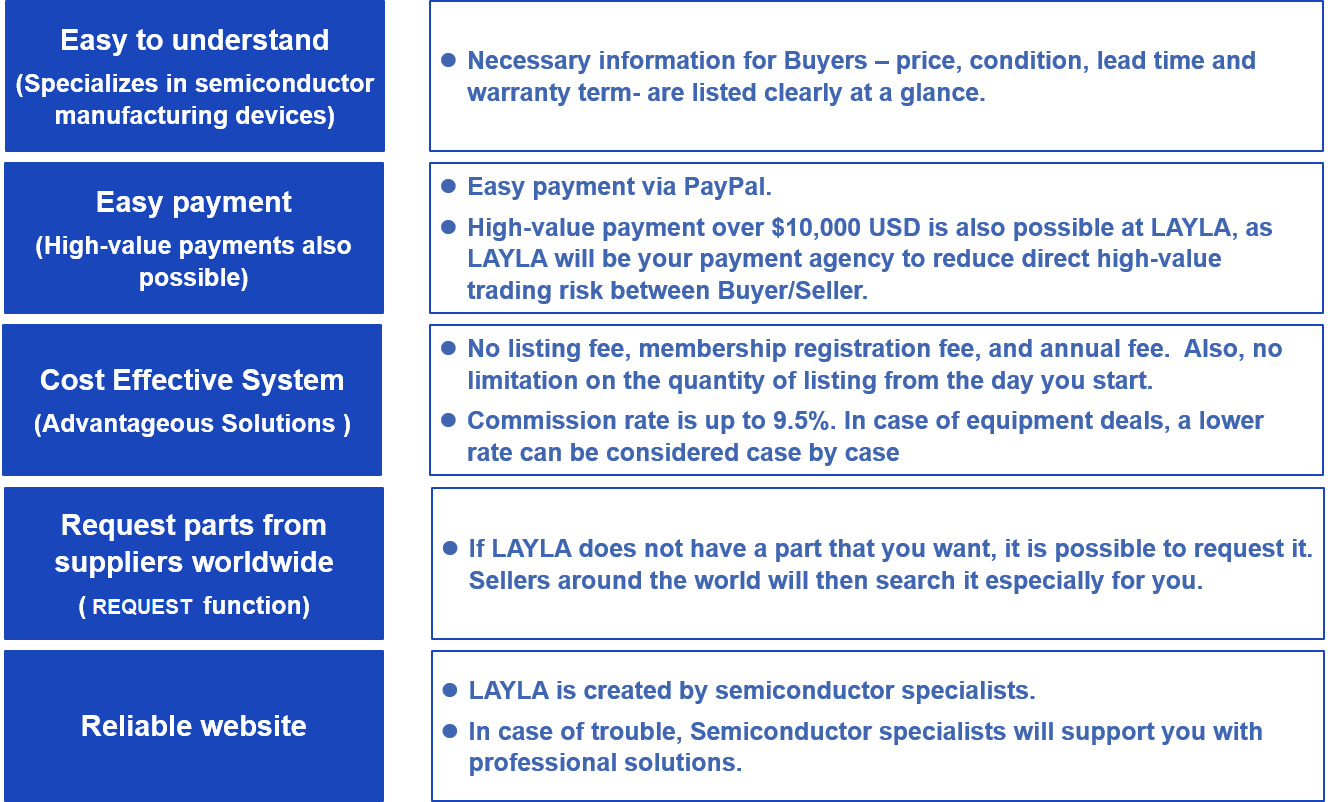 1. Easy to understand

LAYLA is a marketplace specializing in semiconductor manufacturing devices. Necessary information for Buyers - price, condition, lead time and warranty term - are listed clearly, so it is easy for semiconductor-related Buyers to look for parts that they are in need for.

2. Easy payment

Payment of less than $10,000 USD can be made safely and easily via PayPal or via bank transfer.
High-value payment of over $10,000 USD can be made safely via bank transfer mediated by LAYLA

> Click here for information about product prices and payment methods.

3. Cost Effective System

No listing fee, membership registration fee, and annual fee. Also, no limitation on the quantity of listing from the day you start.
Commission rate is up to 9.5%. In case of equipment deals, a lower rate can be considered case by case.

> Click here for information about product prices and payment methods.

4. Request the products you want by using the "Parts (Tools) Request" function

If you do not find the product you are looking for on LAYLA, you can request it from sellers listed on the website. Sellers around the world will then search it specifically for you and you can thus outsource your search efforts directly to the Seller.

5. Reliable website

LAYLA is an e-commerce website created by semiconductor specialists especially for the semiconductor industry. The site is constantly monitored, which makes it safe and reliable to use.
Transaction Process
1. Sign up as a marketplace member

2. Sell products

3. Purchase products

4. Fees
Rules/Manners
1. Prohibited matters

Prohibited matters on LAYLA are as prescribed in the Terms of Use. In the event that prohibited behavior is detected, measures such as account termination, account suspension, or temporary restrictions on certain account functions may be taken. Examples of prohibited behavior are as shown below.

Solicitation of direct transactions with other LAYLA users.
Users mutually lowering their products' prices and purchasing each other's products before an order has been concluded.

Posting false information on the LAYLA website.

Listing products with false information about their content or condition
Stating incorrect lead time information

Using the name of someone other than yourself on the website.

Using a false company name or individual's name to sign up an account and using that false name in the LAYLA marketplace

To send or post personal information (any contact including real name, address, e-mail address, and telephone number) of the user himself or another user other than LAYLA's prescribed procedure.

Posting your contact information in product description
Informing others of your contact information using the inquiry form

Behavior that could cause inconvenience or discomfort to other users.

Persistently sending e-mails to another user when that person has refused

2. Prohibited products

Products that are prohibited to list on LAYLA are as prescribed on Terms of Use. In the event that prohibited products are found to have been listed on the website, measures such as account termination, account suspension, or temporary restrictions on certain account functions may be taken.
Representative examples of prohibited products are as shown below.

Products with a purpose mainly used as a weapon or possibly therefore.

Products acquired through illegal means:

Stolen goods
Fake brand products

Products that are not licensed to be sold without a legal authorization.

Products that infringe the export laws, etc., of the relevant countries
Products for which permission in accordance with list regulations and/or catchall regulations has not been obtained
Frequently Asked Questions
Questions we frequently receive about using LAYLA.