English |  한국어 |  中文(simplified) |  中文 | 
Start Selling
WHY YOU SHOULD SELL ON LAYLA
You can begin selling products on LAYLA from the moment you sign up!
> LAYLA User Registration Manual(pdf)
LAYLA's Five Key Features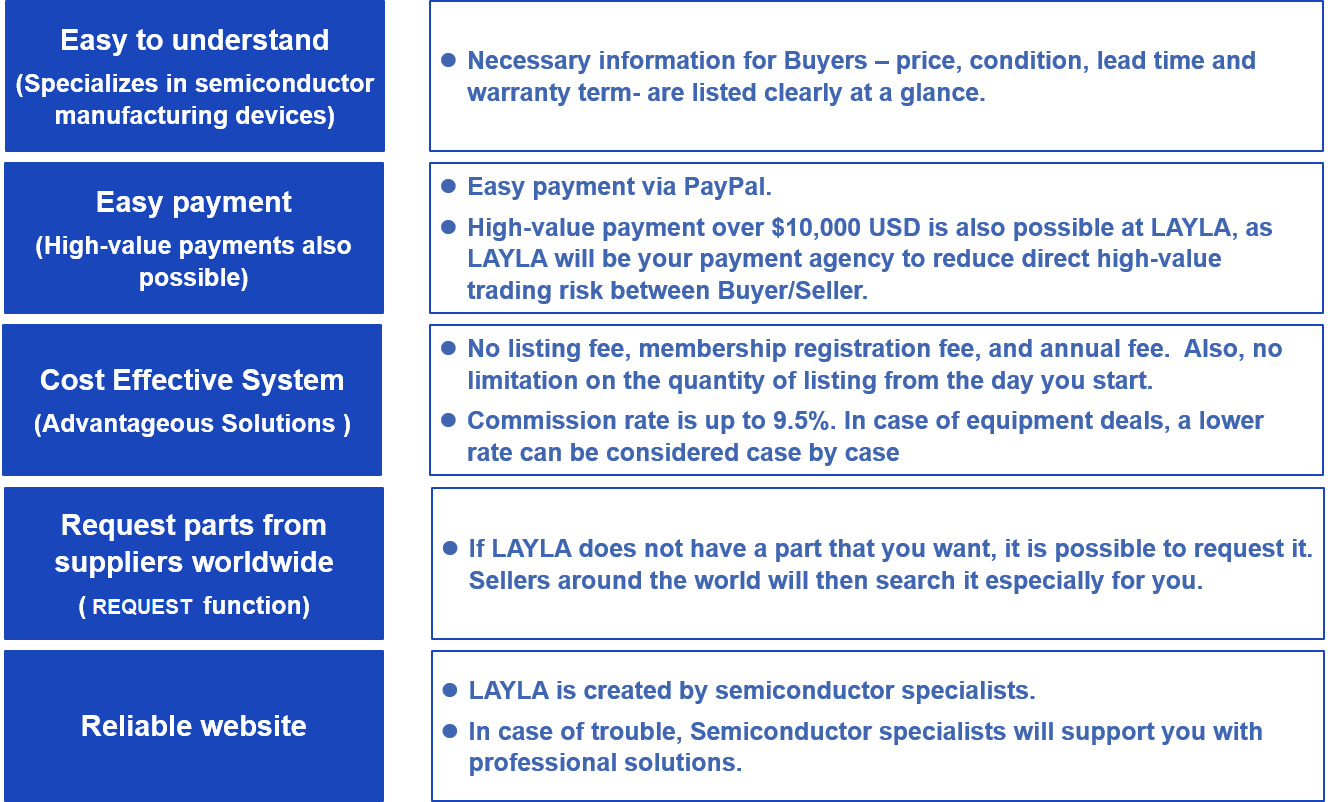 Easy to understand

LAYLA is a marketplace specializing in semiconductor manufacturing parts equipment. Necessary information for Buyers - price, condition, lead time and warranty term- are listed clearly on the site, so it's easy for SEMI-related Buyers to look for parts that they are in need of.

Easy payment

Payment of less than $10,000 USD can be made safely and easily via PayPal or via bank transfer mediated by LAYLA.
High-value payment of over $10,000 USD can be made safely via bank transfer mediated by LAYLA.

> Click here for information on Product Prices and Payment Methods.

Cost Effective System

No listing fee, membership registration fee, and annual fee. Also, no limitation on the quantity of listing from the day you start.
Commission rate is up to 9.5%. In case of equipment deals, a lower rate can be considered case by case.

> Click here for information on Product Prices and Payment Methods.

Request the products you want by using the "Parts (Tools) Request" function

If you do not find the product you want on LAYLA, you can inquire the part from sellers listed on LAYLA. Sellers around the world will then search it especially for you.

Reliable website

LAYLA is an e-commerce website created by semiconductor specialists especially for the semiconductor industry, and therefore it is safe and reliable.
Selling Process: Three Easy Steps
1. Start listing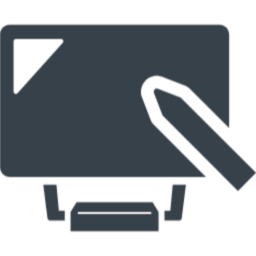 You can list products as soon as you have created an account. There is no limit on the number of products you can list.
*Examination procedure is required for your signing up
2. Receive payment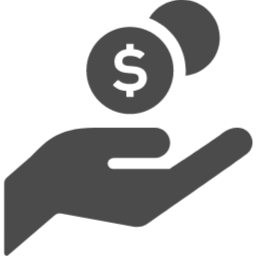 When an order has been concluded, Buyer can finish the payment via PayPal or bank transfer. For PayPal, the payment will be made directly to your PayPal account or registered bank account. For bank transfers, the payment first goes into the LAYLA marketplace account, and will then be transferred to your registered bank account.
3. Ship products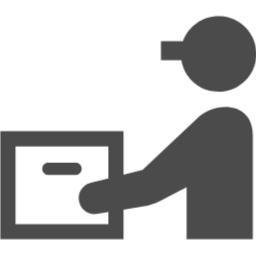 Ship the product when payment from the Buyer is confirmed. Upon product's arrival, Buyer will rate the product and then the transaction is completed.
Seller Sign Up Procedures
1. Sign up for a New Membership (click "Sign Up Now") or upgrade a Buyer account.

If making a new membership, click the link, enter your email address, and a new membership email will be sent to you.
If upgrading from a Buyer account, click "My LAYLA" at the top right of your screen, then click "My Account" on the left side of the screen under the "My Page list." Scroll to the bottom of the list to see the "Seller Sign Up" box, and follow the next steps below.

2. Enter the required information on the Membership Registration form.

Check "Seller Registration" Box.
When you check "Seller Registration" box, a Bank Account Information Form will appear. Be sure to fill out this form as it will be used for high-value payments (transactions over $10,000 USD), if you are not registering with PayPal, or when payment via PayPal is not possible for some reasons.
Agree to the Terms and Conditions of Use and then click on the "Next" button.

3. Linking your LAYLA account to your PayPal account (skip if not using PayPal).

On the PayPal Login screen, log in the PayPal account that you use with LAYLA.
Follow the instructions and complete PayPal's settings.
If you want to create a new PayPal account, click "Create New Account".
*Creating a corporate account with PayPal may take time. In that case please create PayPal corporate account first and then finish LAYLA membership sign up.

4. After examination procedure in the market, you will be registered as a Seller.

In the market all sellers will undergo examination procedure based on the entered member information.
You may be requested to submit documents required for the examination process.
Seller sign up may not be approved if Seller fails to meet the examination criteria.

5. After passing the Seller examination, register your PayPal API information on My Page (if wanting to use PayPal).

Enter the information required for "PayPal API information registration".
---
Last updated: 2022/02/12